www.runninglabstore.com
328 W. Main Street
Brighton MI 48116
810-225-9123
Mon-Sat: 11am to 8pm
Sun: 12am to 4pm
About Us
Ken Larscheid is the owner of the Running Lab  in southern Michigan.The store has one main goal in mind: to have running form at the very top of its priority for all runners. We feel the days of just measuring someone's feet, watching them walk and looking at the wear pattern of an old pair of shoes only tell a tenth of the story for guests in our store. There is a revolution going on in running right now and the testimonials of habitually injured runners that are now running pain free from a quick change in running form have never been greater and more plentiful.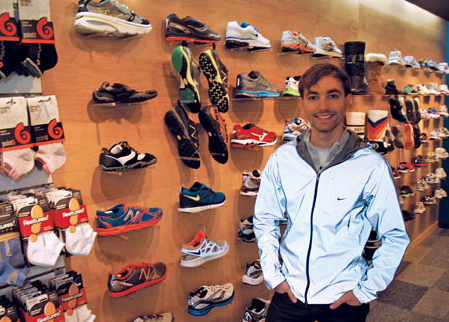 Our fit process takes every guest in our store through some basic running mechanic techniques. When they leave the store, we want they want to be properly fit.
Do we have a collection of minimal shoes? Yes, the best out there. Do we have a collection of traditional shoes? Yes, but also the best fitting process available'. We know that everyone cannot go barefoot but people can have achieve better mechanics in whatever they are running in. We are are constant students in shoe fitting and are changing our approach all the time; but we're always keeping our main goal in mind– which is to educate runners as much as possible on something we are very passionate about: proper running mechanics and the general sport of running. We are happy to be a part of Natural Running Center store network.
Who We Are
Ken Larscheid, owner of Running Lab has been involved in the athletic shoe industry for 11 years in many different facets. Ken started out working at Dicks Sporting Goods for 2 years and quickly realized his passion for running shoes needed to take him further. He moved on to manage two different New Balance concept stores in Wisconsin and Illinois, learning the basics of buying, management, and more precise shoe–fitting utilizing widths and common practices found in traditional sit and fit stores.
In 2005, Ken decided to pursue a sales position with New Balance in their running division. Here Ken was able to talk to many store owners and learn more about the inner workings of buying and product that would ultimately help him the most with his current venture. In 2009, while he was a sales rep for New Balance, he was introduced to Good Form Running, a simple class that was being developed at Playmakers store just outside Lansing Michigan and catching fire with their customers. He was intrigued and started to adopt all the principles into his own running form and says, "he has never felt better running ever since."
Furthermore, that experience made Ken a believer and fueled his passion to want to spread it to as many people as possible. While at New Balance, Ken played an important role in getting New Balance to partner up with Playmakers on Good Form Running. It is now a national program being taught in running stores all over the country. In January 2011, Ken left New Balance to open his own store in Michigan with different values and goals in mind of the standard model of running stores. His selection on the wall is tight, it makes sense, and he has had weekly free Good Form Running classes in his store from Day 1 of his store opening.
Brands We Carry
Altra
Vibram FiveFingers
New Balance
SKORA
ON Running
Hoka One One
Merrell
Saucony
Brooks
ASICs
Nike
Mizuno
Montrail