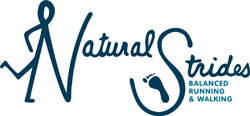 8636 Main Street
Woodstock, GA 30188
678-862-4356
 Opened Since  October 1, 2011
Store Hours:
Monday Closed
Tuesday 11:00 – 6:00
Wednesday 11:00 – 6:00
Thursday 11:00 – 6:00
Friday 11:00 – 7:00
Saturday 11:00 – 7:00
Sunday 12:00 – 4:00
About Us
Natural Strides is the first retail location in the Southeast dedicated to Natural Running and Walking. The store is built on the owners' beliefs that running is the most natural form of movement, and that to harness its power is the key to wellness: physically, mentally, and spiritually. Products and instruction will be centered around the concepts of balance and minimalism.
Owner Greg Scott has been using the ChiRunning & ChiWalking methods for several years. At 6'1″ and 210 pounds and a former Division 1 college baseball player (catcher), Greg struggled for many years with knee pain as he ran. He completed the Chicago Marathon in 3:29, but continued to struggle with knee and ITB pain. He happened upon a free ChiRunning clinic in 2007 and has not been the same since.
Running with less effort, more efficiency, and reduced pain, Greg is now placing and winning his age group in local races and conquering running feats he would not previously have thought possible. Greg recently captained a team for the 200 mile Southern Blue Relay, where he posted the fastest time on the course for the most difficult leg- 11 miles on a dirt trail featuring 6 miles with 2000 feet of elevation gain
Also, for the past four years Greg has been a Teacher of Special Education and has twice been nominated for Teacher of the Year at his schools. Also a Certified Personal Trainer with the American College of Sports Medicine, Greg has been helping individuals on the road to wellness for many years. Greg is a believer in the Exercise is Medicine campaign and a big fan of Christopher McDougall's Born to Run, both of which embody his philosophy on movement and wellness. Greg now finds every run to be a relaxing and rewarding experience and now runs in reduced/zero drop footwear or barefoot. His own great experience with ChiRunning spurred him on to become a Certified ChiRunning and ChiWalking Instructor so that he may now pass along the positive benefits to others.
When Greg learned about natural movement and sought improve his connection to the earth, his search for reduced footwear led to numerous dead-ends and the frequent hassle of ordering running shoes from online shoe stores only to send them back due to poor fit and design. This grew old fast. Greg  felt that it was time for a running and walking store that could cater to people like himself – a place where runners and walkers could go to find products that would encourage proper form and improve their running experience. Natural Strides was born.
Brands & Styles We Carry
Inov-8, Altra, Saucony, VivoBarefoot, New Balance, Stem, Kigo, Newton
[button link="http://www.naturalstrides.com/" window="true"]Shop Now[/button]