Brooks Green Silence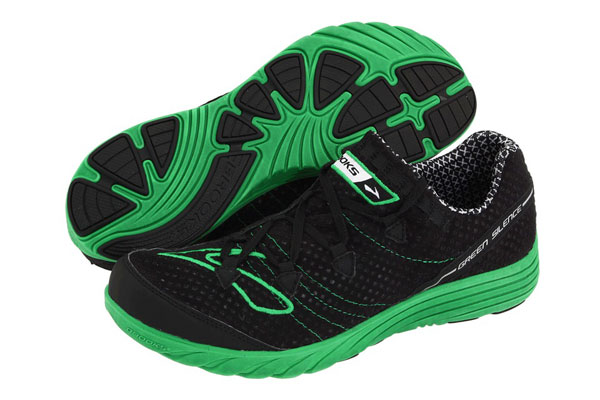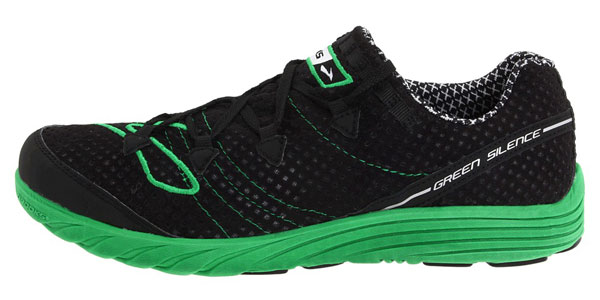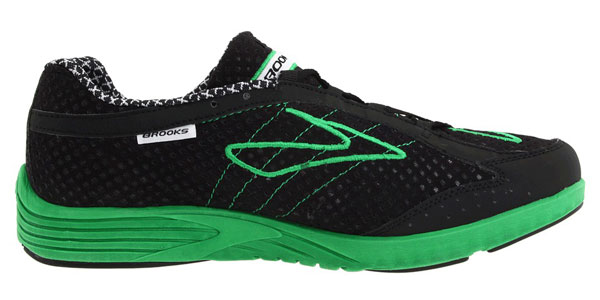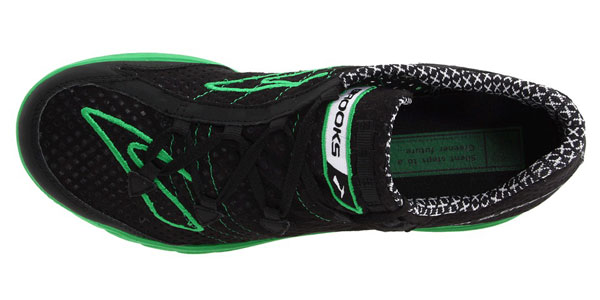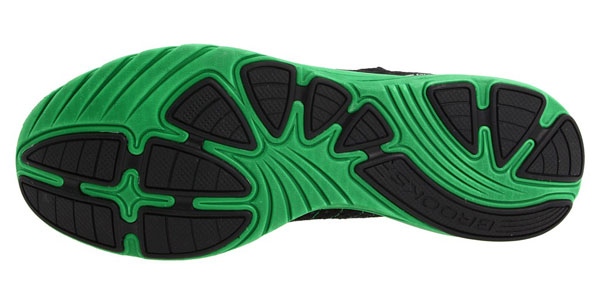 Click on image to zoom in
Review Summary
by Nick Pang, of Minimalist Running Shoes and NRC shoe review editor
The Brooks Green Silence offers both eco-innovation and minimalism – lightweight, 8mm drop, and 10mm midsole racing flat. It is constructed with roughly half as many parts as comparable shoes and is the greenest shoe available anywhere...
One of my pet peeve with the uppers in running shoes is the standard tongue – it always seems to slide to the left on both feet. The first thing I noticed on the Green Silence is the unique wrap-over tongue. The tongue never slides around and I love it! There are also fewer seams on the uppers and multiple eyelet options - for top tongue lacing customized fit and ensuring a snug midfoot wrap. I haven't fully understood how this work but the default configuration suits me fine as long as it provides a snug fit and the tongue does not slide around.
Water-based adhesives are used throughout and all dyes and colorants are non-toxic. All the eco-innovation is great. But does the shoe perform its basic function as a performance racing flat? I was pleasantly surprised and this shoe exceeded all expectations!
Out of the box, you can feel how light the shoes are (6.8 ounces in my size). After putting them on, I have the nice feeling of a snug fit and cannot feel the 8mm differential! It felt like my New Balance Minimus Road (4mm drop). Next, I took out the insoles but they were glued down to the footbed. Fortunately, I was able to remove them but find that the footbed is a little rough.
So I decided to 'smooth' it out by wearing my Injinji Outdoor Trail toe socks and walked over 4 miles in them. The weather wasn't cooperating the next day when I took it for a 3 mile run sockless – heavy rain, strong wind, and cold. Even is bad weather, I had a great run on the Green Silence!
The toe box is wide but could be wider, no blisters or chaffing from the footbed, the mesh in the uppers are soft and breathable, the 8mm differential did not affect my running form, and I did not heel strike at all nor was I tempted. The shoe certainly exceeded all my expectations. I have since put in a lot more mileage doing speed work on the track, walking my dogs daily, and wearing it for work. This shoe is definitely multi-functional for my lifestyle – dress, casual, exercise.
For a racing flat, the shoe is actually pretty flexible and definitely not stiff. The softness of the uppers really impressed me and the fact that they are 100% post-consumer recycled made me smile. I've always been doing my part to save the earth and Brooks have made that task easier. The heel counters are made of recycled compact discs; shoe laces, meshes, linings, gillies, and tongue webbings are made from recycled water bottles; and outsoles are made of recycled rubber. Hopefully this will inspire other footwear manufacturers to rethink their green strategy.
It seemed the 10mm midsole on the forefoot is just enough cushioning for transitioning runners and maybe a little too thick for running on tartan tracks. For asphalt and harder surfaces, this shoe is one that I'm adding to my running shoe rotation.
Available at these NRC Stores





Shoes Mentioned in This Review
| | |
| --- | --- |
| Brooks Pure Connect | Brooks Pure Grit |