Newton Distancia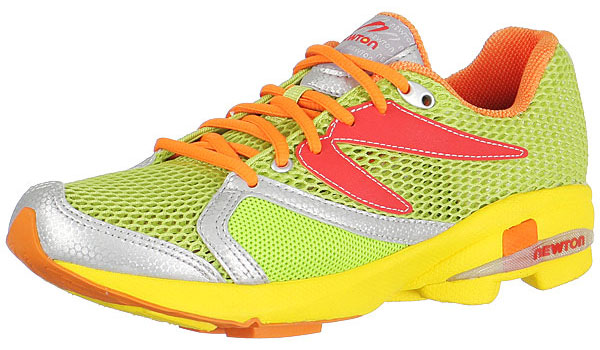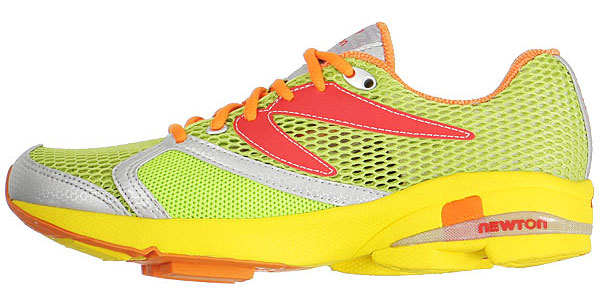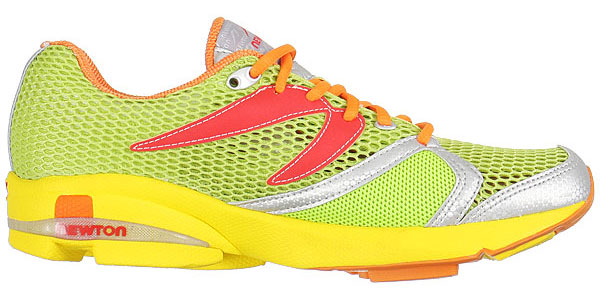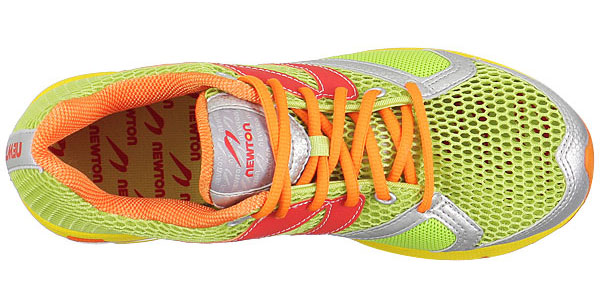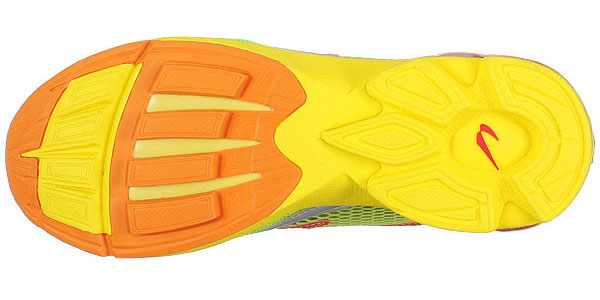 Click on image to zoom in


Review Summary
by Nick Pang, of Minimalist Running Shoes and NRC shoe review editor
The Distancia is Newton Running's top-of-the-line neutral performance shoe, and with just a 2mm drop is ideal for those wanting to transition to natural running. And stick with it! In other words, the Distancia is a "gateway" shoe to improved form and efficiency.
At first glance, the Newton Distancia (or Distance) looks like a traditional racing shoe - heeled, bright colors, mesh uppers, and standard lacing. But the similarities end there.
The shoe has a wide toe box and is lighter than most shoes. The uppers open air mesh is highly breathable and fast-drying - it looks more like a fish-net and you can see your toes from the outside!
The outsole is made of recycled high-density rubber and the heel uses a lightweight carbon blown rubber. The midsole is made of high rebound EVA with their patented 'Action/Reaction Technology' in the forefoot and heel of the shoe. When using the ultra-efficient Land-Lever-Lift natural running gait of a midfoot or forefoot strike, the technology absorbs and then returns energy back to you.
Our wear testers loved that feeling - they feel lighter on their feet and uses less effort for each step. However, they did not lift their knees to begin a new stride after landing and striking. The energy return system is actually impacting their running form. Whether that is good or bad remains to be seen. It will delay their transition to a running form where they lifts their knees instead of pushing off their forefoot. It will only take time for them to adjust to the new-founding 'excess' energy they now harnesses on the fly!
Cushioning in running shoes is like a drug - it always feel great to have cushioning when running long distances. But it also affects your natural running form. The actuator lugs is a great invention - more cushioning and less time on the ground thus less energy required from the runner.
For walking long distances, this turned out to be a great shoe too. It is comfortable, light, and cushiony. Their first impression when they tried on the Distancia is that it felt like the original Masai Barefoot Technology (MBT) 'rocker shoe' or Skechers Shape Ups - a multi-layered shoe with a curved sole (Two shoe brands we advise to stay away from, as well as other "toning shoes," which study after study show no increased benefits such as calorie loss or more muscles.)
We had to size our testers up by a half size as they run smaller and it's important to have your forefoot centered over the red actuator lugs. You need a full thumb's width of space in front of your toes to provide room for the dynamic foot movement that takes place when the levering action takes place.
Mark Cucuzzella, owner of Two Rivers Treads:
"While I regularly train in many of the brands of shoes sold in my store, Newton's top-of-the-line performance Distancia is my favorite shoe for marathons and ultras. I clocked a 2:37 at the 2011 Boston Marathon wearing them. And because I am not getting any younger-- I am forty-four years old-- I need to depend on a shoe to keep my legs fresh for the long haul. This shoe is engineered for natural running, speed, distance and performance. With a level platform construction and Action/Reaction Technology, this lightweight, high mileage racer lets you run with greater efficiency, quicker recovery and less overuse injuries (like achilles tendonitis and plantar fasciitis). The sole will wear quicker than Newton's Gravity (which has carbon on heel area) if you tend to still heel land. If you are midfoot/forefoot landing, this is the shoe for you. It also maintains midsole properties to 1000+plus miles. They tend to fit smaller that many common running shoe. And remember that with every shoe there's an adjustment or breaking-in period.
Most importantly, a unique and extremely beneficial property of all Newtons is the firm TPU top plate. It is a misconception that a shoe should be soft where you land. To activate the intrinsic support to stabilize yourself in mid-stance phase (where the highest impact forces and most gait abnormalities occur) you must feel the ground when you contact it. So a shoe that is firm where you land and then gives a little back at the phase of your stride where forces are greatest is ideal. Too soft a landing means you will not stabilize yourself in mid- stance. For optimum ground feel on contact in all shoes remove the soft insole."
What Others Are Saying:
"The shoes have a nice roll on the forefoot section which seemed to improve my posture but I also noticed it gave me a sensation of running on slight downhill. I'm not sure if its just my mind but I also noticed increased foot speed and my legs weren't dragging as much. Having said that, I was able to run 10km faster without ever stopping and felt very good and satisfied at the end of the run. The shoes helped me maintain my position even when I'm tired as well as keep me on my forefoot."-- The Running Ninja
"A note about getting started with Newtons; take your time! Every runner is different and starting to run with natural form may be calling on muscles that aren't used to working very much, so take it easy and listen to your body! In conclusion, I would recommend these shoes to anyone interested in improving their form. It's such an important part of running that many overlook. Please remember that it may take a week or two of adjusting, but after that it's smooth sailing!" -- Iron Brandon
Available at these NRC Stores















Shoes Mentioned in This Review

Newton Gravitas

Merrell Pace Glove

VIVOBAREFOOT Evo/Evo II

VIVOBAREFOOT Neo