Saucony Kinvara 2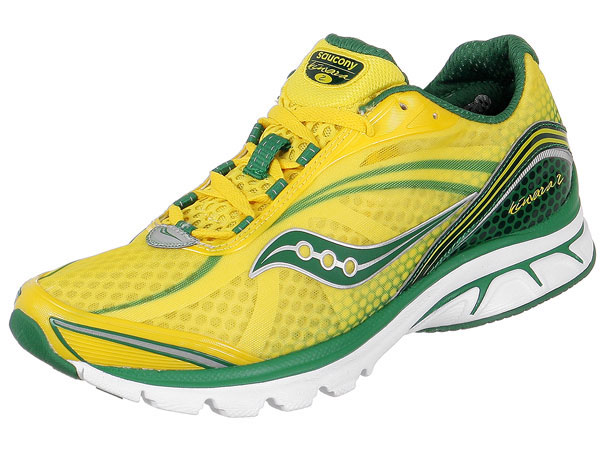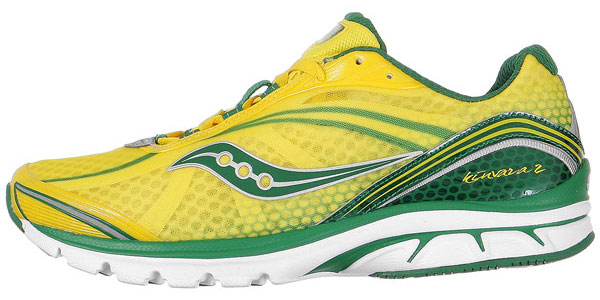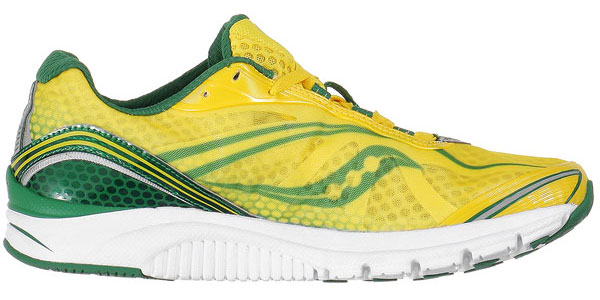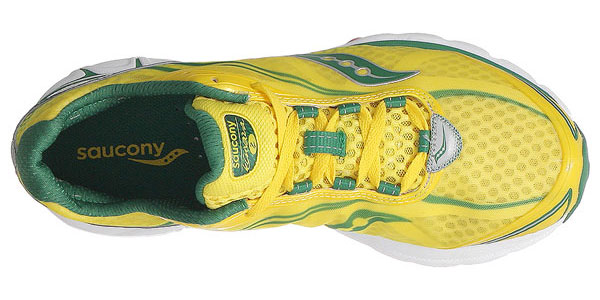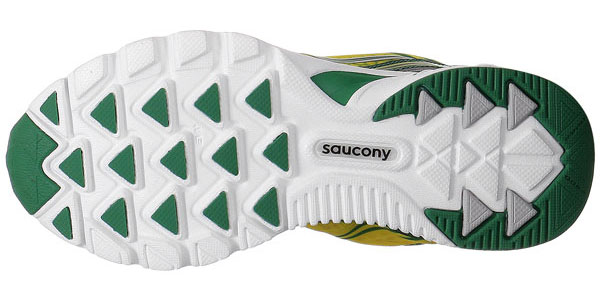 Click on image to zoom in


Review Summary
by Pete Larson, of RunBlogger
Well, I broke down and purchased a pair of Saucony Kinvara 2's. My original pair are still in pretty decent shape, despite having run two marathons and ~200 miles on them (I don't tend to accumulate a lot of miles on individual shoes given all of the reviews I do – these have the most of any in my current rotation).
I haven't run in the Kinvara 2 yet (I want to keep them in reserve), but from just trying them on, the feel is pretty much the same as the original. In fact, the Kinvara 2 is little changed from the Kinvara 1. Therefore, my goal is to highlight some of the changes.
The first thing to note in the Kinvara 2 is that the outer layer of fabric on the upper seems to be a bit different – it's hard to say for sure since I'm comparing to a well-used pair of 1's, but the material feels a bit more "plasticy" and more durable than that on the Kinvara 1. This could help with forefoot tearing issues some people have had with the upper on the original Kinvara.
Internally, the Kinvara 2 has a new layer of mesh that was not present in the Kinvara 1. This should help keep dust and small debris out (personally, I have not had much problem with this). It might also help with sockless running comfort.
As for the sole, the basic construction and feel seem to be very similar between the two models, and the 4mm drop (without the insole) appears to be the same based on my measurements. I forgot how squishy the sole is in a new pair of Kinvaras, and based on the difference in feel between this and my old pair, it seems apparent that this changes with use. When looking at the two shoes side by side, it does seem as if the sole of my original Kinvara is wider than that of the Kinvara 2.
Measuring across the forefoot in the same spot on both shoes, I get 117..2 mm for Kinvara 1 and 109.7 mm for Kinvara 2. For the heel, I get 90.7 mm for Kinvara 1 and 86.2 mm for Kinvara 2. If this is the case, then the increased width of the sole in my old pair must be due to midsole compression that has flattened and widened the EVA.
In summary, the Kinvara 2 is mostly a cosmetic update with a few added features in the upper. I'd still like to see Saucony widen the forefoot just a tad and add some rubber under the lateral forefoot for those who scuff this area, but all in all I'm glad that they didn't change much in what has been one of my favorite shoes.
Available at these NRC Stores







Shoes Mentioned in This Review
| | |
| --- | --- |
| Saucony Peregrine | Saucony Hattori |