TRUE linkswear Tour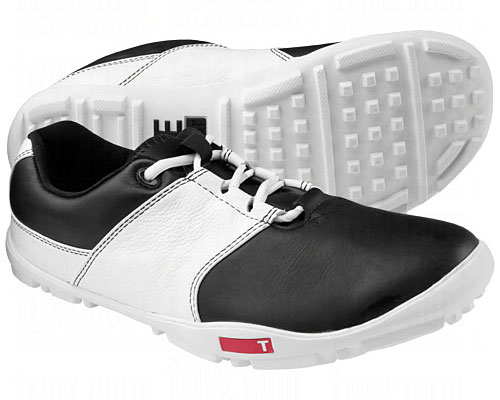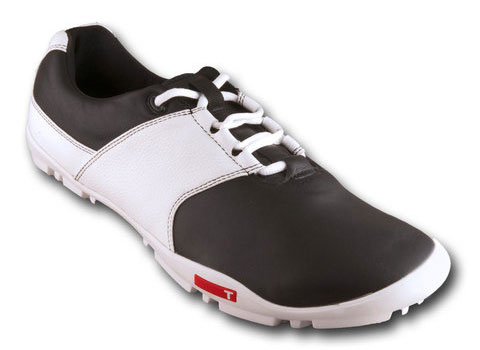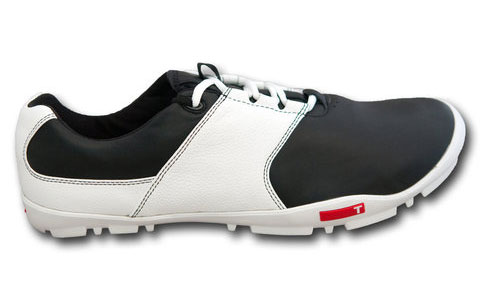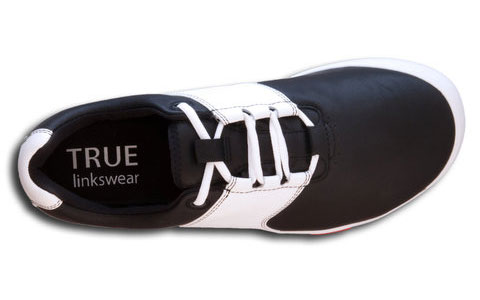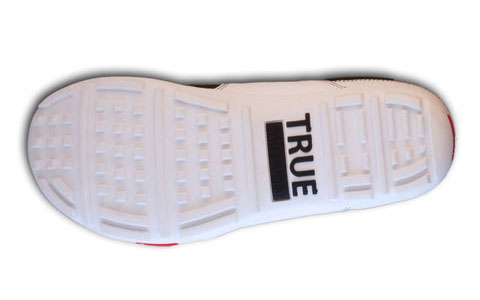 Click on image to zoom in
Review Summary
by the Natural Running Center
Natural Running Center director Mark Cucuzzella plays golf. As do many other runners. Last April, on an early morning golf outing with his young son at a local West Virginia course, he got a birdie on the very first hole… while playing barefoot. While it's impractical for most golfers to play barefoot, wearing a barefoot-style golf shoe is not. This is where a new Scottsdale, Arizona footwear start up, TRUE Linkswear, comes into the picture.
The conventional golf shoe has a super stiff sole that virtually guarantees little or no tactile connection between the feet and ground. And without this connection, golfers are often off-balance and prone to overswinging.. (Legendary golfer Sam Snead, who grew up playing golf barefoot in West Virginia (odd coincidence!) recommended hitting a ball in socks or barefoot to correct a faulty swing; "if you swing too hard, you will break your toes!")
But TRUE has radicalized the golf shoe. It has removed the midsole and spikes thus allowing the golfer to feel the course like never before – less than 10mm from the ground. The "barefoot platform" has a wide toe box that allows toes to function individually. The flexible outsole and cushioned foot bed allows the feet to work naturally during the golf swing while the TPU Ergo-Traction tread maximizes surface contact and grip.
Best of all, it's a comfortable shoe for walking. Most golf courses actually discourage walking since it slows down play. The use of an electric golf cart will only generate one mile of actual walking for 18 holes, whereas walking the same course is equivalent to going five miles on foot. Nor does walking negatively affect performance, as it once was thought; some studies have shown those who ride and those who walk shoot the same scores.. The benefits of walking are obvious: you burn calories, it's a mild aerobic exercise, it keeps the blood better circulated, as well as keeping the muscles and joints loose.
NRC shoe review editor Nick Pang, who is not a golfer, has even gone on some runs in the TRUE golf shoes, His report: "One thing that I noticed immediately when I took the Tour shoes out of the box – a pretty high toe spring – worried that it might incorrectly lift my toes off the ground. I put the shoes on and it felt like I'm standing on the balls of my feet. But after I walked for about three miles and jogged in the wet grass (they are waterproof) for a few minutes, the shoe really felt comfortable. And the toe spring did not bother me – but the ultimate test is a real run. The next day, I ran about four miles on a tartan track in these shoes without socks. It felt great. I think this is the almost perfect transitioning or bridging shoe between traditional running shoes and minimalist shoes! Fancy that!"
Available at these NRC Stores