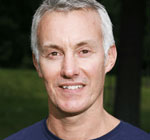 Lee Saxby is a coach and expert of barefoot running and natural locomotion. Based in England, Lee has spent 20 years studying with the leading researchers across the fields of biomechanics, nutrition, athletic training, evolutionary biology and functional medicine. Lee is also a principle at Wildfitness and is an advisor to VivoBarefoot, and author of the educational booklet, "Proprioception: Making sense of Barefoot Running."
Lee had a BSc (honors) in Sport Science, with a major in biomechanics; and post -grad education gait analysis and sports rehabilitation. Lee has been published in Runner's World (UK) and featured in articles for Harper's Bazaar, The Daily Telegraph, Daily Express, London Lite and NorthWest magazine. Lee has worked with Chris McDougall. For more information on VIVOBAREFOOT Training Clinic with Lee Saxby, go here.
Lee Saxby is a Coaching Advisor to the Natural Running Center.
Proprioception is the body's awareness of its own motion and position. It's essential to enjoyable and injury-free running and is the secret to optimum performance. Understanding and developing your proprioceptive sense is the first step on the journey towards awakening the skill of natural movement.
Running Relaxed and Efficient with Lee Saxby: A Short Tutorial