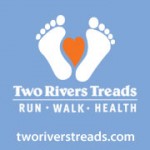 400 S. Mildred St
Ranson WV 25438
304-885-8843
Only 60 miles from Baltimore or Washington
http://www.tworiverstreads.com
About Us
We were the nation's first walking and running specialty retail outlet to offer products and education to assist transition toward, or maintenance of, natural and efficient running and walking form.
Both old and new research and the experiences of injured runners provide ample layers of evidence that the human foot must develop naturally during youth and continue into adulthood to function and behave like a foot.  When you rediscover your foot's vital communication with the ground, it will no longer  be "no pain…no gain" but rather "no pain…thank you".
We also are a gathering spot and guide to the outdoors and rich historical heritage of the Land of Two Rivers – a confluence of wild places, art, history, and healthy living.  We are the Headquarters for Freedom's Run; and along with hundreds of volunteer hours will donate 5% of sales back to our community for health and wellness activities, with a special focus on children.
Who We Are
Mark Cucuzzella, M.D.
Dr. Mark Cucuzzella is a Professor at West Virginia University School of Medicine. He is also a LtCol in the US Air Force designing programs to promote health and better fitness  in the military with the USAF Efficient Running Project.  In his community and medical school he has been a tireless promoter of nutritional interventions in patients with any spectrum of the metabolic syndrome  and  introducing  low carb options  for hospital patients.  He is a member of The Nutrition Coalition advocating for scientific scrutiny in nutritional policy.
He was a lead writer of one of the first grants supporting education of Medical Students in nutrition and physical activity through the MEDCHEFS program, now in its 4th year.  Mark is also the lead on a large USDA  grant to double SNAP benefits at Farmers Markets- the goal is reducing food insecurity as a barrier to healthier eating.
He's also been a competitive runner for over 30 years — with more than 100 marathon and ultramarathon finishes — and has a unique streak of 30 years running a marathon under 3 hours. He has won the Air Force Marathon twice. He is the race director of Freedom's Run race series in West Virginia and director of the Natural Running Center, an education portal designed to teach healthier running . Mark is also the owner of Two Rivers Treads — A Center for Natural Running and Walking in his hometown of Shepherdstown, W.Va.  Mark's vision of medical care as it should be is housed in his site www.natureprescriptions.org
Mark's innovative work and story has been featured in the New York Times, NPR, Outside Magazine, Running Times, Runners World, Air Force Times, the Washington Post, JAMA, Blue Ridge Outdoors, and other medical and media outlets.