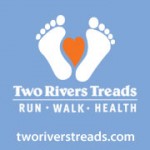 107 W. German St.
Shepherdstown WV 25443
304-876-1100
Only 60 miles from Baltimore or Washington
http://www.tworiverstreads.com
Store blog: http://runshepherd.com 
About Us
We were the nation's first walking and running specialty retail outlet to offer products and education to assist transition toward, or maintenance of, natural and efficient running and walking form.
Both old and new research and the experiences of injured runners provide ample layers of evidence that the human foot must develop naturally during youth and continue into adulthood to function and behave like a foot.  When you rediscover your foot's vital communication with the ground, it will no longer  be "no pain…no gain" but rather "no pain…thank you".
We also are a gathering spot and guide to the outdoors and rich historical heritage of the Land of Two Rivers – a confluence of wild places, art, history, and healthy living.  We are the Headquarters for Freedom's Run; and along with hundreds of volunteer hours will donate 5% of sales back to our community for health and wellness activities, with a special focus on children.
Who We Are
Mark Cucuzzella, M.D.
The founder and owner of Two Rivers Treads is Mark Cucuzzella, M.D., the Executive Director of the Natural Running Center, and who is a Family Physician at Harpers Ferry Family Medicine and Associate Professor at West Virginia University School of Medicine. As a Lieutenant Colonel in the Air Force Reserves, he is coach and captain of their marathon team and designing programs to reduce running injuries in military personnel. He is the chief medical consultant for the Air Force Marathon (www.usafmarathon.com).  His passion for health extends beyond the walls of the clinic into the medical home's "backyard"– the trails and open space that create the arena for optimum wellness.  He is also the Director of the Natural Running Center.  Mark has been a competitive runner for nearly 30 years, completing over 60 marathons and ultras, and continues to compete as a National level Masters runner. His marathon best is 2:24 and has run in 23 Boston Marathons; in 2011, he went 2:37 at the age of 44! In September, 2011, he won the U.S. Air Force marathon outright!at.
Brands & Styles We Carry
Newton Running, Terra Plana VIVOBAREFOOT, New Balance, Kigo, Altra Running, Inov-8, Vibram, Saucony, Merrell Barefoot
[button link="http://trtreads.myshopify.com/" window="true"]Shop Now[/button]